We have used software from CompuSports for breaking down our opponents. EZ Scout and EZ D Scout have been very helpful to us. Visit their site below.
Toby's Football Coaching Site
COACH
Takeaknee.com
BC Warrior
Offensive Line Resource Page
Tommy Browder's Coaching Site
Football Central
The Coaching Staff
Coach B's
Football Faxuals
Football Clinic
The Press Box
Coaches Services
David's FB Notebook
Unofficial West Coast Offense Site
QB's and Coaches
Prime Time
Anderson's O-Line Quick Tips
The Zone
Football.com
Coach Shack's Special Teams
The Old Coach Network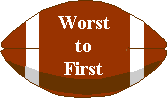 To add your link, email me: wingt@excite.com
We ask that you link your site to us as well.

Back